FOR MANUFACTURERS
TEMAVI® has reinvented the tongue/groove joint to create a system offering remarkable ease of assembly and disassembly along with outstanding stability in assembled flooring.
A solid grip on boards during sanding means more benefits.
The V-joint is more accurate because the boards are stable.
Waste is reduced.
The finishing stage is accelerated.
Product quality is improved.
And TEMAVI® is perfectly compatible with your current inventory !
What's more, detaching boards for packaging is quicker and easier.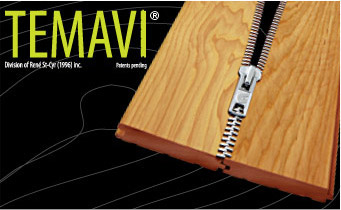 Download the brochure

© All rights reserved – René St-Cyr Enterprise Inc.