René St-Cyr Enterprise Inc was founded in 1976 by a man who was passionate about all things wood. Over the years, it has met and exceeded its clients' various needs. Located at 3330 Route 157 in Notre-Dame du Mont-Carmel, Quebec, it is now officially known as René St-Cyr Enterprise (1996) Inc.
Having started out as a sawmill, René St-Cyr Enterprise has greatly evolved since. The year 1996 was an important milestone in the company's history, generating a flood of fresh ideas with the arrival of a new team. Equipment was modernized, improving product quality and significantly increasing production capacity. The company also became a hardwood flooring subcontractor, which enabled it to broaden its horizons.
All these years of experience and expertise have enabled the company to garner an enviable reputation among Canadian and American clients. Its richly deserved success has come on the back of hard work and the constant desire to keep up with the very latest developments, enabling it to rise to any number of challenges and surpass client expectations. René St-Cyr Enterprise operates on the cutting edge of technology and is proud to be one of the rare hardwood flooring and stair specialists.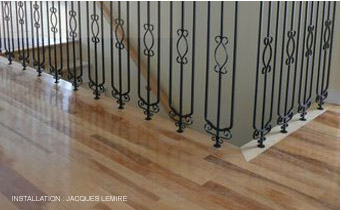 © All rights reserved – René St-Cyr Enterprise Inc.